Shiatsu for the workplace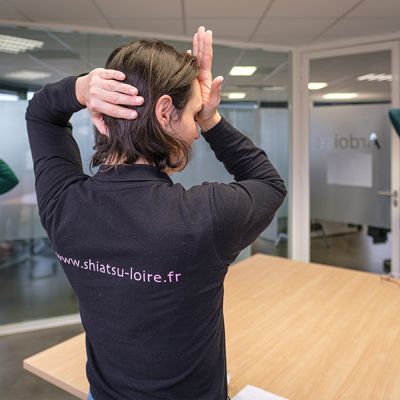 During a typical Shiatsu treatment, the patient is lying down. I also practice sitting Shiatsu and can therefore provide Shiatsu in the workplace for a half or whole day. Shiatsu is a great way to motivate your employees!
Why Shiatsu in the workplace?
Shiatsu is a form of treatment that:
is modern and innovative
promotes joy and well-being
promotes a feeling of "community"
improves work relationships
A Shiatsu treatment also makes a great gift for your employees or your favorite customers.
What are the benefits of Shiatsu?
stress-relief
improved concentration
increased motivation
better communication within the group and, as a result, overall
fewer incidents of stress-related illness
increased productivity and creativity
fewer work absenses
How does a treatment work?
I start all my first treatments by sitting down with a client, and asking him or her a few questions. This is to make sure there aren't any reasons why Shiatsu might be an unsuitable form of treatment for a particular client. The patient sits fully-clothed on a chair during the treatment, which lasts around 20 minutes. Using pressure administered through the fingers and palms, I work on a client's shoulders, back, arms, hands and head. At this time, the muscles will begin to relax, internal organ function will be activated, and the nervous system will undergo stimulation. By the end of the 20-minute treatment, the client will experience a renewed sense of vitality.
Where do I offer treatment?
I work primarily in Angers and the whole department, to provide treatments. I don't require a special space or area in which to carry out treatments. I can give two treatments per hour and up to 14 treatments per day.
Sitting Shiatsu is not a form of medicine and should never be used in place of a doctor's treatment.
Enregistrer